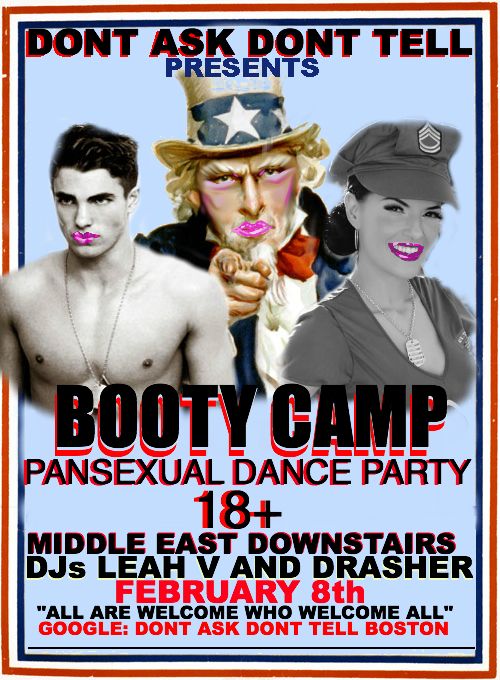 D.A.D.T. Presents: BOOTY CAMP
A SLAMMIN' 18+ PARTY OCCURRING AT THE MIDDLE EAST DOWNSTAIRS!
Ready to give you all you've ever wanted with... 5 hours of DANCING.
THATS RIGHT. The jams wont stop ALL NIGHT.
Featuring a fresh to death soundtrack of trill, moombah, electro, house, hip hop, footwork, top 40 remixes, 90s and LOTS more...
SPUN BY BOSTON's HARDEST WORKING PARTY PEOPLE
LEAH V
(Work!, DRAMA, Milk and Honey, Paper Panda)
+
DRASHER
(Resident DJ/Creative Director Dont Ask Dont Tell)
Come get a taste of what D.A.D.T. serves at our party at Great Scott recently awarded "Best Gay Night" by DIG Boston.
But we aint just gay or straight... our motto is
"ALL ARE WELCOME WHO WELCOME ALL".
Come on people. We can all get along. ♥
Get ready to move that ass to the sway of our female and male GOGO dancers!
Be hypnotized by our arsenal of originally crafted video projections courtesy of Nick Day!
Lose yourself in a fully immersing light show D.A.D.T. brings to the middle east courtesy of Hadley Lighting!
Chill out at one of two bars serving affordable cocktails and booze all night!
Reek havoc on your friends in our DIY Arcade!
This is BOOTY CAMP. Now where's that drill Sergent?
Doors @ 8pm
10 Bux Cover
EVENT PAGE
http://www.facebook.com/events/564184500277593
PRESALE TIX AVAILABLE HERE:
http://www.ticketweb.com/t3/sale/SaleEventDetail?dispatch=loadSelectionData&eventId=3330164&REFID=elink&pl=mideastrestaurant
www.pleasedontaskdonttell.blogspot.com
www.facebook.com/dontaskortell
www.soundcloud.com/djdrasher
www.soundcloud.com/leahmcfly
www.nickdayvisuals.tumblr.com
http://www.scottahadley.com/