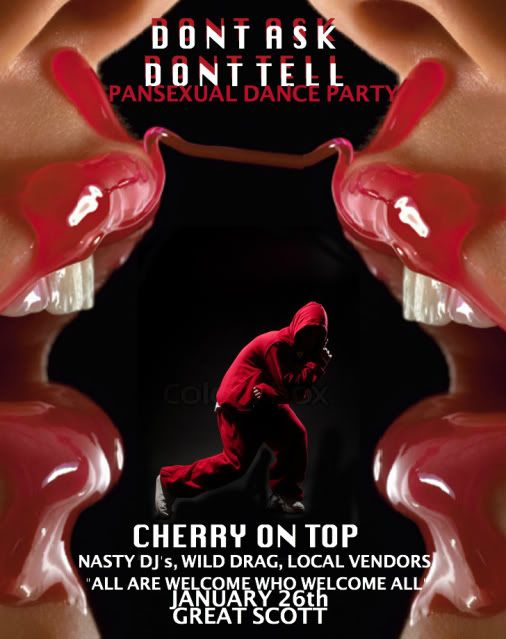 2013 is gonna be a sweet year.
At least we can guarantee it will start that way.
Its DADTs 2nd Birthday Party!
And if there is one crew that knows how to throw a gala event...its us.
To begin we have exciting news!
We are bringing in 4 Amazing vendors from around greater Boston!
This way you can get DRANK, DANCE and then stuff your face and fill your shopping bag with the freshest gear!
Featuring:
**Muffy Brandt**
Specializing in wicked hip apparel, Muffy deisgns and screen prints leggings, t-shirts and more. We found her selling her wares at the Bizarre Bazaar and insisted she come grace us with her goods.
check out her etsy here---->(
http://www.etsy.com/people/MuffyBrandt
)
**DiscoVision**
Recently just opening there own store front in Somerville these brothers love vintage. From Poloroid Cameras to 80s and 90s Video Games to Jewelry to Electronics. Lovely throwbacks and must haves from two connoisseurs of the trade. (http://www.discovisionvintage.com/)
**Rat City Sweets**
Your mouth will water for the scrumptious vegan baked goods of Max Sage. Made from scratch this man can and will get you stuffed with delight.
**Lara's Donuts**
Little rings of delight packed with butter, sugar and love. These donuts will rival anyting you've ever had... Twin Donuts included.
And thats JUST THE BEGINNING!
We've got Resident DJ DRASHER on the decks spinning the fiercest new music! Specializing in bass heavy jams set to bring your bodies together.
(
www.soundcloud.com/djdrasher
)
He will be joined by the prolific and talented BRIZGNAR. Brizgnar has been DJ'ing the Boston Scene for several years, however most recently he has been really creating a storm regularly appearing at Work! (Zuz-Days at ZUZU) and also the award winning Pico Picante dance party at the Goodlife.
(
www.soundcloud.com/brizgnar
)
Plus! Our boundary pushing drag show featuring the lovely:
Aquanette Jones
Rose Hell
Social Services
Local Honey
and Juanita Percent
This topped with Nick Day's super loaded video projections and Scott Hadley's
shining light show you wont have to fight the urge to dance those donuts off.
(
www.nickdayvisuals.tumblr.com
)
(
http://www.scottahadley.com/
)
DADT: CHERRY ON TOP. Its our Birthday. You get the presents.
www.pleasedontaskdonttell.blogspot.com
www.facebook.com/dontaskdonttellboston